Sand and sanding systems are essential to commuter, light rail and heavy rail vehicles to provide adhesion of the rail car to the track. The steel-to-steel combination requires sand for better breaking and deterrence of environmental conditions that form on the rail.
The Macton portable sanding system provides convenience and fexilibity when adding sand to a locomotive that is away from service/maintenance facilities, or as an addition to an existing sanding system.
The Macton portable sanding system may be mounted on a trailer that can be pulled by a truck. It is DOT approved and can be transported on public roads, including highways - a feature not all portable sanding systems have. The sanding system may be charged using the locomotive's air supply or with an optional air compressor. With the help of a sanding wand and the remote pneumatic control, the operator is free from holding the sand hose during the fill-up, and the entire sanding process is reduced to simple push-button operations. When the filling process is complete, the operator pushes a button to stop the sand flow and purge the sand hose. Purging the sand hose facilitates the removal of the hose and eliminates sand spills.
Designed for convenient and reliable operation, the Macton sanding trailer and optional storage silo are built to be the most rugged, reliable, and easy-to-use unit of any system available.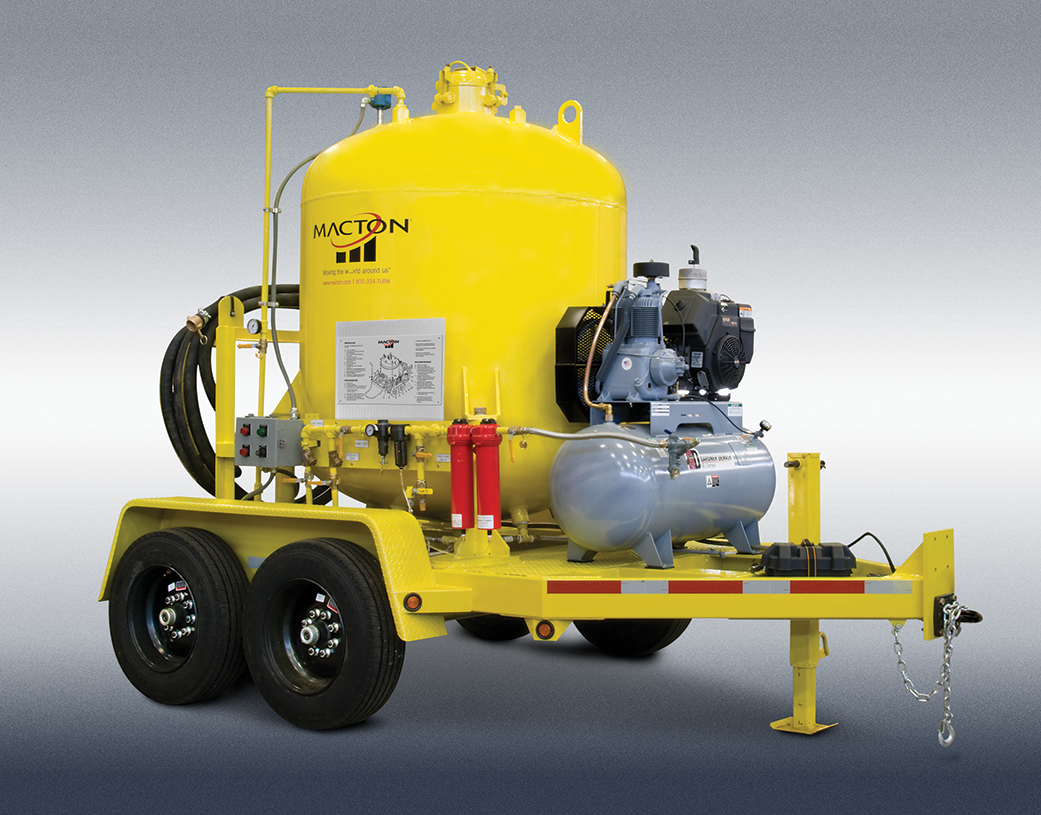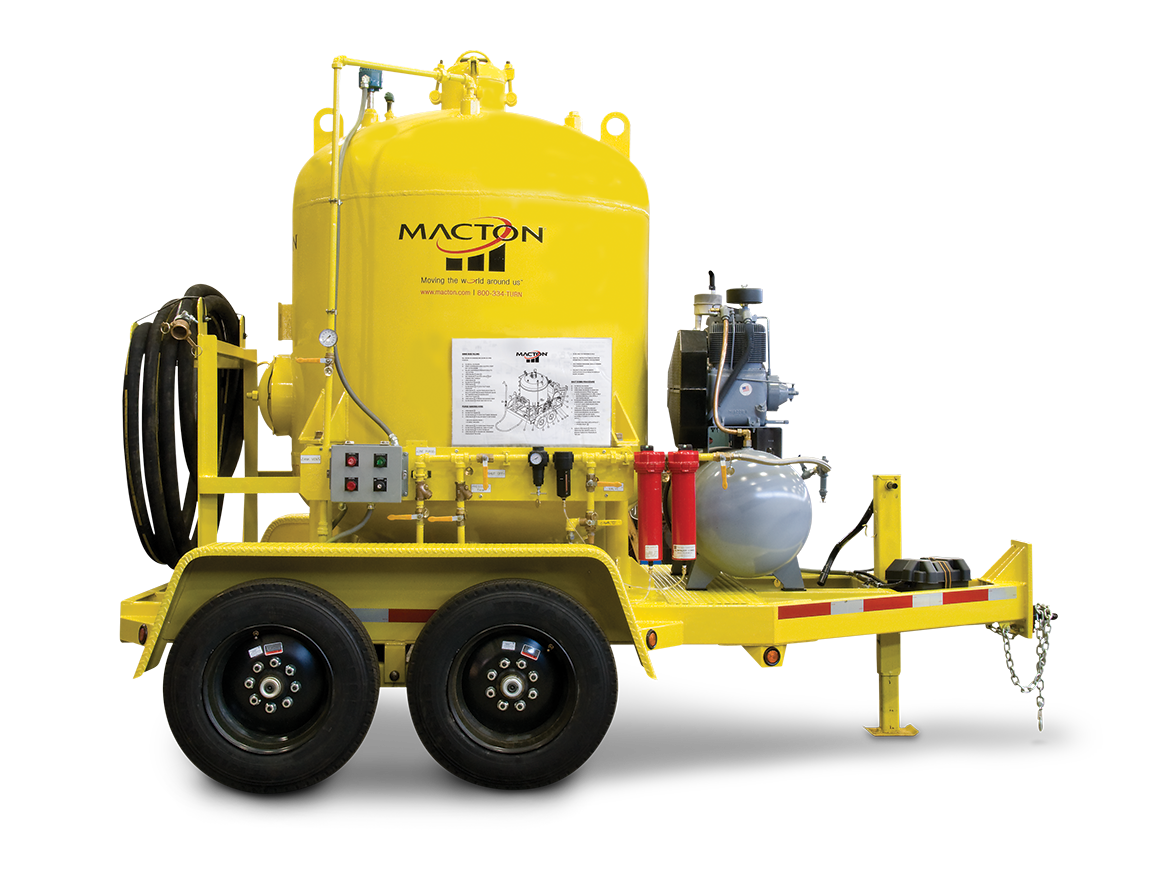 BENEFITS
Key Benefits of Macton Portable Sanding Trailers
5 Ton Capacity Portable Sand Dispenser
25 Foot Sand Hose
DOT Approved
Can Be Transported on Public Roads, Including Highways - A Feature Not Available on All Portable Sanding Systems
Sand Delivery Wand with Discharge Valve to Control Sand Flow
Purge Valve to Purge Sand From Wand After Fill Up
25 Foot Air Supply Hose
Top Hatch for Loading Sand with 10" Inlet
Air Compressor to Charge System
High Level Bin Switch to Indicate When Tank is Full
Sand Filter with Dryer and Silencer
Vent Valve to Relieve Tank Pressure When Not In Use
Pintle Hook Trailer Connection
Long-Term Reliability – Macton has been providing rail shop solutions for decades and helps its customers keep their equipment running smoothly and quietly day in and day out for many years to come.
Full Support Throughout Project – Macton provides full support throughout the entire project, beginning with the initial design of the system to be built, during which time Macton's engineering staff interfaces with the project's engineers and other professionals to provide the practical assistance and the detailed technical support needed to integrate its equipment into the overall installation.
Ease of Equipment Installation – Macton provides a specially-trained field engineer or technician to supervise the installation, start-up and commissioning of its equipment, ensuring that it is brought on-line quickly and delivers the expected performance.
Ongoing Post-Sale Support – Macton also provides long-term spare parts and technical support services. Long-term service contracts are also available at each of these installations for periodic inspection and maintenance programs, as well as training services, as needed. In addition, Macton provides customers with the ability to easily upgrade their control panels, drives and other systems to ensure they reflect the latest in technology.
Standard 5 Year Warranty – The equipment is warranted to be free from defects in material or workmanship for a period of five (5) years from the date it's shipped from Macton's facility. Accordingly, during such 5-year period, Macton will repair or replace any such defective parts or equipment at Macton's cost (including covering all shipping costs). If required to trouble-shoot such equipment, Macton will provide the services of an onsite field service engineer, and if any such defects are found to exist, Macton will pay the labor and travel costs of such field service engineer. This warranty is void if the equipment is installed without supervision by a Macton representative. This warranty does not cover: (i) water damage, or damage due to chemical corrosion or from dirt or debris on or around the equipment, (ii) any damage caused by improper use or accident, or from the failure to perform the recommended periodic maintenance on the equipment, (iii) normal wear and tear, (iv) portions of the equipment repaired or modified by others without Macton's prior written approval, or (v) any additional onsite labor, tools or equipment required for the inspection, removal and reinstallation of any parts of the equipment.