When a truck assembly is placed in a truck rotator, it can be turned on its central axis to facilitate maintenance, repair and inspection on areas of the truck that would be otherwise difficult to access. The truck rotator may also be used in a truck wash bay to ensure that the truck is washed thoroughly from all angles.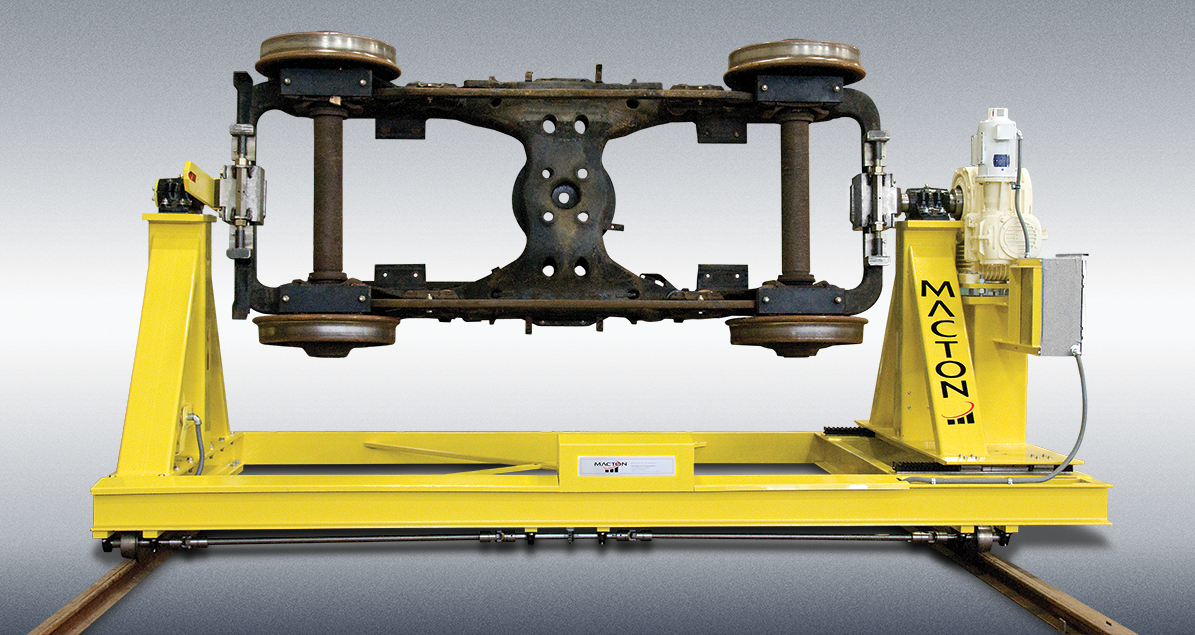 BENEFITS
Long-Term Reliability – All of these systems are pre-assembled and tested in our manufacturing facility to ensure that all performance criteria have been met before they are shipped out to our customers. In addition, there is a special focus in the design, engineering and fabrication of these systems to ensure that they continue to run smoothly and reliably day in and day out for the years and decades to come – this has been proven out in the many truck rotators which have been in service for years and continue to move smoothly and quietly day in and day out.
Minimal Maintenance Required – These systems require only a minimal amount of routine maintenance each year, which can be scheduled for times when the facility is not normally in operation – as a result, this minimal annual maintenance does not entail operational disruptions or expensive downtime for the servicing of this equipment.
Full Support Throughout Project – Macton provides full support throughout the entire project, beginning with the initial design of the system to be built, during which time Macton's engineering staff interfaces with the project's engineers and other professionals to provide the practical assistance and the detailed technical support needed to integrate its equipment into the overall installation. This support includes providing foundational, electrical and control requirements, trim details, data for structural analysis and any other assistance the project requires.
Ease of Equipment Installation – Macton provides a specially-trained field engineer or technician to supervise the installation, start-up and commissioning of its equipment, ensuring that it is brought on-line quickly and delivers the expected performance.
Ongoing Post-Sale Support – Macton also provides long-term spare parts and technical support services. Long-term service contracts are also available at each of these installations for periodic inspection and maintenance programs, as well as training services, as needed. In addition, Macton provides customers with the ability to easily upgrade their control panels, drives and other systems to ensure they reflect the latest in technology.
Standard 5 Year Warranty – The equipment is warranted to be free from defects in material or workmanship for a period of five (5) years from the date it's shipped from Macton's facility. Accordingly, during such 5-year period, Macton will repair or replace any such defective parts or equipment at Macton's cost (including covering all shipping costs). If required to trouble-shoot such equipment, Macton will provide the services of an onsite field service engineer, and if any such defects are found to exist, Macton will pay the labor and travel costs of such field service engineer. This warranty is void if the equipment is installed without supervision by a Macton representative. This warranty does not cover: (i) water damage, or damage due to chemical corrosion or from dirt or debris on or around the equipment, (ii) any damage caused by improper use or accident, or from the failure to perform the recommended periodic maintenance on the equipment, (iii) normal wear and tear, (iv) portions of the equipment repaired or modified by others without Macton's prior written approval, or (v) any additional onsite labor, tools or equipment required for the inspection, removal and reinstallation of any parts of the equipment.